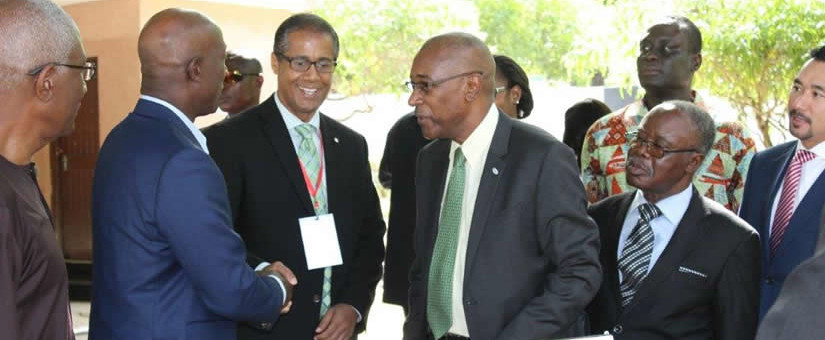 Ghanaian ties strengthen following RHFL President's visit
Posted by RFHL
On May 17, 2016
Port-of-Spain, Trinidad: May 12, 2016:– Despite the present global conditions, there is great potential for significant future growth in Ghana and Trinidad and Tobago. So said, President, Republic Financial Holdings Limited (RFHL) Mr. Nigel Baptiste, at a cocktail reception hosted on Monday by HFC Bank (Ghana) and RFHL.

Prime Minister Dr. Keith Rowley was also part of the delegation of a high-powered business leaders invited to the reception, as part of his four (4) day official visit to Ghana.
"From political stability and a similar legal framework, to shared cultural touch points and economies based on agriculture, manufacturing and energy, Ghana's population of 26 million present significant opportunities for Trinbago businesses," said Baptiste. The event was aimed at reinforcing the close historical ties among Ghanaian and Trinidad and Tobago companies.
In his address, Baptiste said that the goal of Republic Financial Holdings Limited, is to add value to the local context in which it is operating. "In 2012, the Group took what many considered at the time, to be the brave decision of expanding our footprint into sub-saharan Africa and Ghana, in particular, by acquiring an 8.9% stake in HFC Bank," he said. May 2016, marks the Group's one year anniversary of majority ownership of HFC Bank.
Baptiste expressed his hope that the partnership built by RFHL and Ghana, can be a beacon for what is possible between the two countries, adding that, "We see opportunities to facilitate linkages between companies in the oil and gas sector in T&T and Ghanaian companies." In recognizing Mr. Robert Le Hunte, Managing Director, HFC Bank (Ghana), Baptiste said
Le Hunte was based in Ghana, with the responsibility for championing the bilateral possibilities on both sides of the Atlantic.
Endorsing similar sentiments echoed by Mr. Baptiste, Dr. Keith Rowley indicated that T&T had over a 100 years of oil and gas production, and had been particularly successful in giving value to their natural gas resources. "Our experience with utilizing gas both for power generation and for the development of the petrochemical industry as well as, exports of Liquefied Natural Gas (LNG) could be of interest to countries in Africa and we are keen to share our experience in oil and gas with our brothers in Africa.
During Dr. Rowley's visit, he laid a wreath at the grave site of Mr. George Padmore, a native Trinidadian and unveiled a plaque commemorating his visit, which was donated by HFC Bank and RFHL.
The reception was also attended by His Excellency the Vice President of Ghana, K.B Amissah-Arthur, Dr. The Honourable John Dramani Mahama, Ghana Government officials, the Diplomatic Community Representatives of the private sector and other stakeholders.
About HFC (Ghana)
In May 2015, Republic Financial Holdings Limited (RFHL) became the majority shareholder in HFC Bank with 57.11% equity stake following the Mandatory Tender Offer (MTO) to shareholders with the approval of the Securities and Exchange Commission (SEC) and the Bank of Ghana. Working in collaboration with HFC (Ghana), RFHL expects to build on the existing strong foundation and grow to achieve new levels of success in the banking industry.