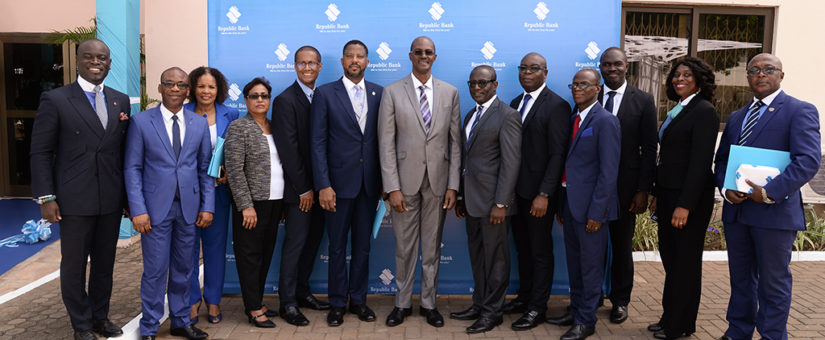 HFC Bank (Ghana) rebrands as Republic Bank (Ghana) Limited
Posted by RFHL
On May 11, 2018
Port of Spain, Trinidad: April 30, 2018: HFC Bank (Ghana) has been rebranded as Republic Bank (Ghana) Limited, in the culmination of a transition that started more than four years ago when HFC Bank became part of the Republic Bank Financial Holdings Limited (RFHL) Group.
The Bank's new name was announced at a rebranding launch on Tuesday April 24, 2018, in Accra, Ghana. The launch was given the theme 'The Blue Sky' in a nod to the fact that, under its new Brand, Republic Bank (Ghana) Limited will become even more closely aligned with the other subsidiaries under the umbrella of the RFHL Group. The Group, which is headquartered in Trinidad and Tobago, also has subsidiaries in Grenada, Guyana, the Cayman Islands, Cuba, Barbados and Suriname.
Of course, the symbolism behind the Bank's choice of the theme goes further than the sense of community shared by the various members of the RFHL family. It is also a reference to the anticipated upward growth of both Republic Bank (Ghana) Limited and the RFHL Group as they pursue future business opportunities among regional business leaders and further invest in the sustainable development of Ghana's business community.
With these goals in mind, RFHL President, Nigel Baptiste, shared that the blueprint behind the Group's success has been to listen and to grow in concert with the communities they serve, so that the Group's products and operations continue to be responsive those communities' needs, even as they change over time.
He explained that this design has enabled the Group to serve with distinction over the course of its 181 year history. This model is also an indicator of how the Group intends to serve in Ghana, under the RFHL banner.
Republic Bank (Ghana) Limited has already begun to make good on this promise with initiatives, like last year's Trade Facilitation Mission, that provide local and regional business leaders with networking opportunities and promise to bolster the growth and competitiveness of both the Bank and the local business community.
With the strength and expertise of the entire RFHL group behind them, it would appear that, for the newly minted Republic Bank (Ghana) Limited, the sky is the limit.